Who does not sometimes dream about spending the rest of the life in a tropical beach resort with white sands, clear blue water and coconut trees?
The Philippines is a country made up of more than 7000 islands and English is recognized as a second official language. Most of the Filipinos, even older people speak at least a few words English. So with a little knowledge of the English language, it's much easier to get what you want than in Thailand.
Where to Stay
Because of the numerous islands, however, it might be difficult for many to decide where and on which islands to settle down. If you have a Filipina partner however, the the place to live could already be prescribed.
The Cost of Living
The cost of living in the Philippines is cheap and you can easily make a living there, even if you are on a low budget. I will try to give you all the information you might possibly need to live and survive in the Philippines.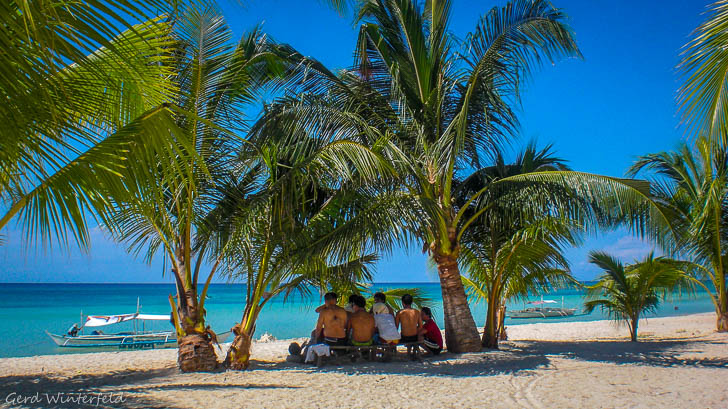 Living in the Philippines: Beach on Bantayan Island, Philippines
The author of this web site lives on Bohol Island in the Philippines, currently on a 5/7 month basis for family reasons but will move there permanently sooner or later.
The Filipinos are friendly and helpful, but you must also be careful not to be cheated. The crime rate increases as you approach the larger cities. However, this is the case in other countries as well.
Unemployment benefits and social welfare are foreign words in the Philippines and non-existent! There is no social network that catches one when anything goes wrong and the financial cushion melts.
International Health Insurance
Make sure you have an internationally valid health insurance. Doctor visits because of minor problems you can easily pay by yourself but hospital stays can be really expensive in the Philippines.
Anyone who wants to live in the Philippines should be able to stand on their own feet and not call for help from your mum or authorities for any small problem.